Tripod, Sat 22nd Dec
0
~ Spring Break: Miracle on Harcourt St.
Saturday 22nd December 2007
Tripod, Harcourt St. Dublin 2
doors 7.30, show ends 10.30
tickets €23.50 incl. booking fee from;
~ www.tickets.ie
~ Sound Cellar, Nassau St.
~ City Discs, Temple Bar Lane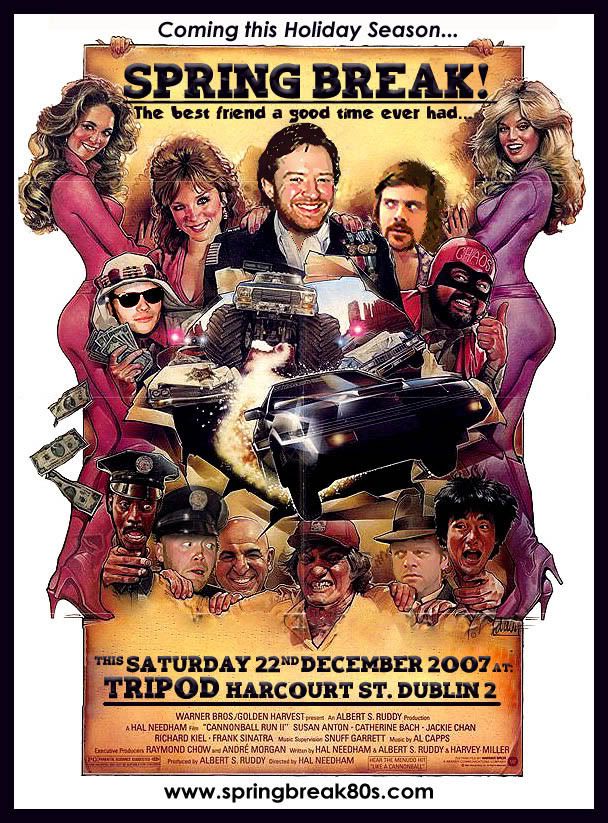 ~~~~~~~~~~~~~~~~~~~~~~~~~~~~~~~~~~~~~~~~~~~
Howdy friends,
George P. Shultz here, dropping a line to you all on behalf of Spring Break.
The guys have been on the road these past few months and only last weekend wrapped up their mini-tour of executive fundraisers with a headlining show at the Bechtel Corporation's end of summer barbecue. More at home in an environment of assertive political purpose, the Break were only too happy to turn down a slot at Tipper Gore's 59 th birthday party in favour of performing for an ageing cabal of business associates with similar vested interests.
These shows are an essential stop on the Spring Break itinerary as they not only provide an opportunity to test material in front of an inattentive and out of touch audience, but also afford time to consort with those principle movers in US industry who annually pick up the tab for the band's increasingly large carbon footprint. In a bid to unwind, this past week has seen the guys undertake a series of personal ventures as varied as the music that has defined their career together as a performing group.
While Jim Break has continued his stay with me to chair strategic talks at the JP Morgan Chase bank's International Advisory Council, his kinsman in synth, Hilton Burbank, has flown to California to receive an honorary fellowship from the Hoover Institution at Stanford University. Plant City, Florida, and in particular, its recently opened church of Scientology is where you'll find Kendrick Berrera, the spiritual countinghouse's principal benefactor. Carmichael Anthony Thomas St. Hall is in New York acting as an advisor on the set of a made-for-TV biopic about his late friend, Jean-Michel Basquiat. And Jan Van Couver – as most of you will already know from tabloid newspaper coverage – is vacationing in Europe with Marilu Henner.
After these projects are completed, the fellas plan to return their attention to their new luxury hanglider company (Style Glide), an appointment to turn on the Xmas lights at the Rockefeller Centre in New York at the end of November, and the small matter of putting together their freshly confirmed show in Tripod, Dublin on December 22 nd.
Plans are already in motion to make this Xmas show the band's most spectacular yet. Tickets for this seasonal spectacular are now on sale and are available online at www.tickets.ie and in the retail outlets Sound Cellar of Nassau St and City Discs of Temple Bar Lane South.
On behalf of,
Spring Break
Keep the fire burnin',
George P. Shultz