Tripod 12th April 2008
0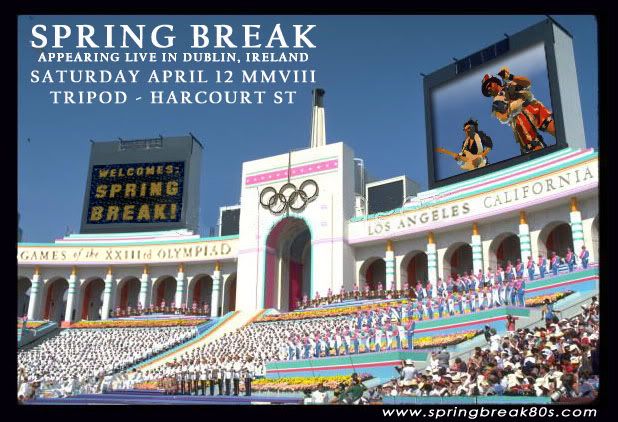 Hey Spring Break fans,
Carl Lewis here, relaying all the latest news from your favourite 80s Super Group.
An insatiable appetite for glory, a passion for smashing world records, a holier than thou sense of self-righteousness, a voracious attitude to corporate backhanders, and a chequered past when it comes to drug use are just some of the attributes I share with my good friends in Spring Break. But there's another common bond between us, something for which we will all likely be remembered, forever more: our startling performances at the Los Angeles Summer Olympics of 1984. But let's jump back some 90 years before that perfect moment in time…
When Baron Pierre de Coubertin founded the International Olympic Committee in Paris back in 1894, he bestowed upon the movement a three word motto: "Citius, Altius, Fortius" (Faster, Higher, Stronger). This adage is one I have always strived to live by throughout my career as a God-fearing track and field athlete of world renown. On the evening of July 28th 1984, at the opening ceremony of the Games of the XXIII Olympiad however, Spring Break set about rewriting the Baron's near century old aphorism with a set that is still the gold medal standard for every gig since played, or yet imagined.
The headline on the front page of the LA Times the following morning simply read: "Atarachos, Oraios, Yperfysikos" (Composed, Beautiful, Supernatural). These three tenets have been the basis for every Spring Break show since the Pacific sun set on that otherworldly appearance at the Los Angeles Memorial Coliseum, and it will be no different when the band appears at Tripod on Saturday April 12th to reprise their Olympic set in its entirety.
Before then there is the small matter of aiding me, and other former Games legends, in delivering the torch to Beijing for the start of this year's festival of deception. But rest assured, this trans-continental slog will not incapacitate the guys one bit: they'll be undertaking their leg – the first leg – of the journey aboard Mary Lou Retton's private jet.
Tickets to this Tripod show are €24.50 and are on sale now online at www.tickets.ie and in Sound Cellar on Nassau St. I hope to be there myself and look forward to running up a considerable drinks tab with you all.
Until then,
Keep the fire burnin'
Carl & Spring Break